Princess Polly
Shopify Plus
Custom Dev
UI/UX
Migration
PIVOT Migrates Princess Polly from Magento to Shopify Plus
Australia's best online fashion boutique, specializing in women's clothing, shoes, beauty products, and accessories. Re-established as an online force in the retail scene in 2010, Princess Polly is focused on creating the best customer experiences and delivering top-quality, on-trend pieces for its customers around the globe.
Princess Polly's ecommerce operation was set up on Magento, but as time passed and the business grew, they began to look for a new platform that was more scalable. "We realized Magento was turning into an old, dying platform, and we were spending far too long managing it rather than improving it," said Wez Bryett, Co-CEO at Princess Polly. "From managing servers to the growing maintenance costs, to the fact that it was impossible to scale, we just knew it was time to migrate." As a result, they started the search for a new ecommerce platform and developer agency that would make migration as pain-free as possible.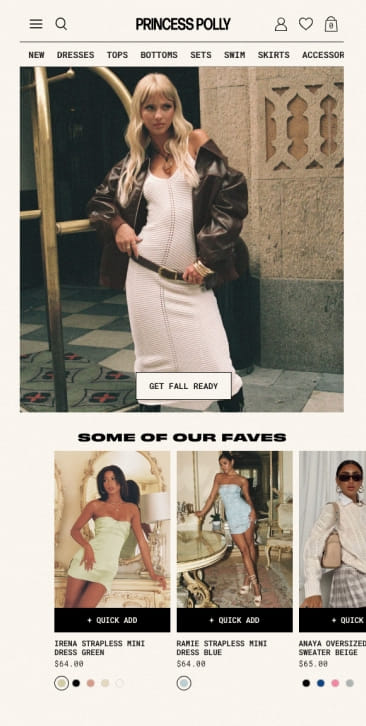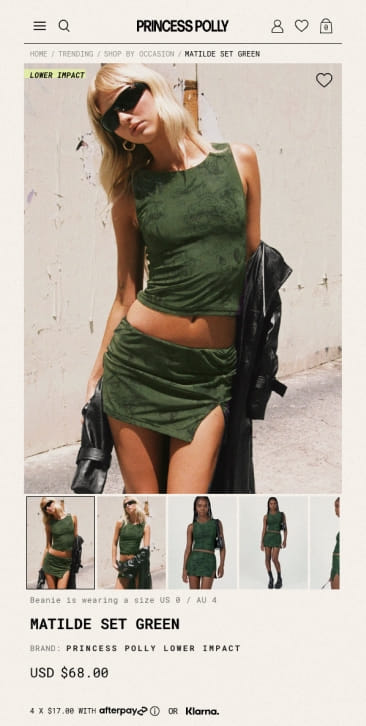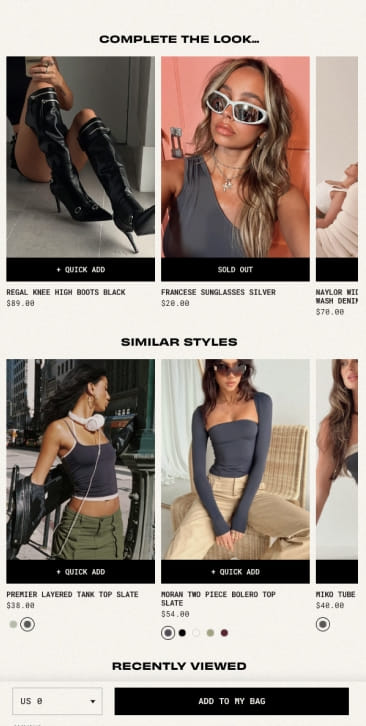 Princess Polly needed to find a reliable agency partner to migrate them to a new ecommerce platform.
The
Challenge
( Princess Polly )
One of the first things Princess Polly needed to do was to open up a new USA store to focus on their biggest market. This meant first finding a new ecommerce platform, launching the US site, and then replatform the 10-year-old Australian Magento site to Shopify Plus.
It wouldn't be easy: Building a multi-currency, multi-region site and migrating their large, complex data sets to a new platform would be no small feat. This included moving a subset of US customers and historical orders from the legacy site to the new site, and then setting up a workflow that invited those users to register in the new site (so they could access their order histories). A big concern was losing customer data in the migration process – so they needed a partner who could guarantee a secure, seamless transition.
Princess Polly also wanted to replicate their existing customer experience (but on a new platform) that leveraged a custom theme – and integrated with all their existing and new third party apps. Data migration for this would be especially complex: It wasn't just a move, but also a data conversion, as the brand's nearly 100,000 SKUs would need to be seamlessly imported to the new platform. What's more: They needed everything quickly. With a three-month launch window, they needed to find an agency that could run with the project and move at a fast clip without sacrificing quality.
Princess Polly selects PIVOT as their agency partner to migrate them from Magento to Shopify Plus.
The
Solution
( Princess Polly )
The team chose Shopify Plus as their new platform because it seemed like the obvious choice. It was SaaS-based, developers were launching new integrations for it every day, and as a platform, it was flexible enough to scale alongside their growing business.
After a few positive recommendations, they turned to PIVOT as their agency partner for the transition process. It was a good fit, as PIVOT ticked all the boxes: They were a mid-sized team (not too large, not too small), were experts well-versed in Shopify Plus, and their existing portfolio of work spoke to the quality they could deliver. Plus: They were up for the challenge of a short timeline.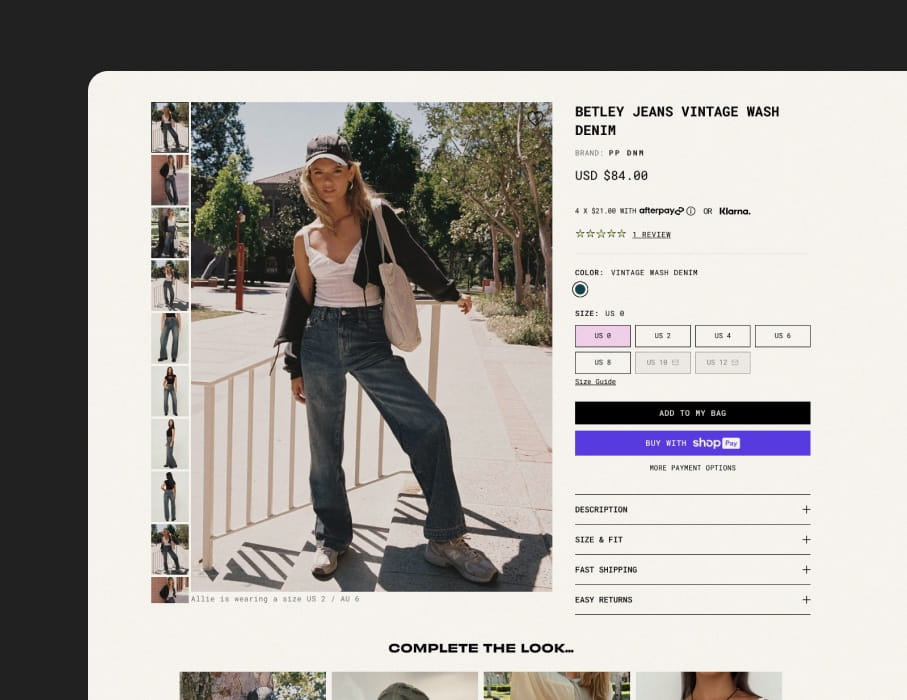 As the migration got underway, the PIVOT team stayed flexible despite moving with speed, delivering on what Princess Polly needed along the way. They handled the full stack (Shopify and custom tools) and worked to optimize site speed, workflows, and conversion funnels. This would've been a much longer undertaking undertaking for other agencies. PIVOT was able to ensure everything was thoroughly migrated by doing re-runs of the data moves multiple times to ensure everything was tested and validated.
PIVOT also re-created the brand's proprietary custom buying and reporting tool, so it integrated seamlessly into Shopify. As part of the process, they created a new product filtering and reporting app within Shopify using Shopify Polaris. As a result, the tool allows the team to see weekly sales velocity against on-hand inventory and tracks customer demand for sold-out items as well – this enables the brand to stay on top of demand and spot buying opportunities.
When it came to handling varied product configurations and linking, Princess Polly needed the functionality to group separate products and display them as separate "tiles" on a category page – but also show them grouped under a single product detail page. The product pages also had to support Shopify's standard product/variant grouping for certain product categories. This "dual grouping" was a unique request, as most brands opt for one or the other – not both. PIVOT built and tailored the front-end theme and back-end configuration to work both ways in order to satisfy the brand's site merchandising requirements.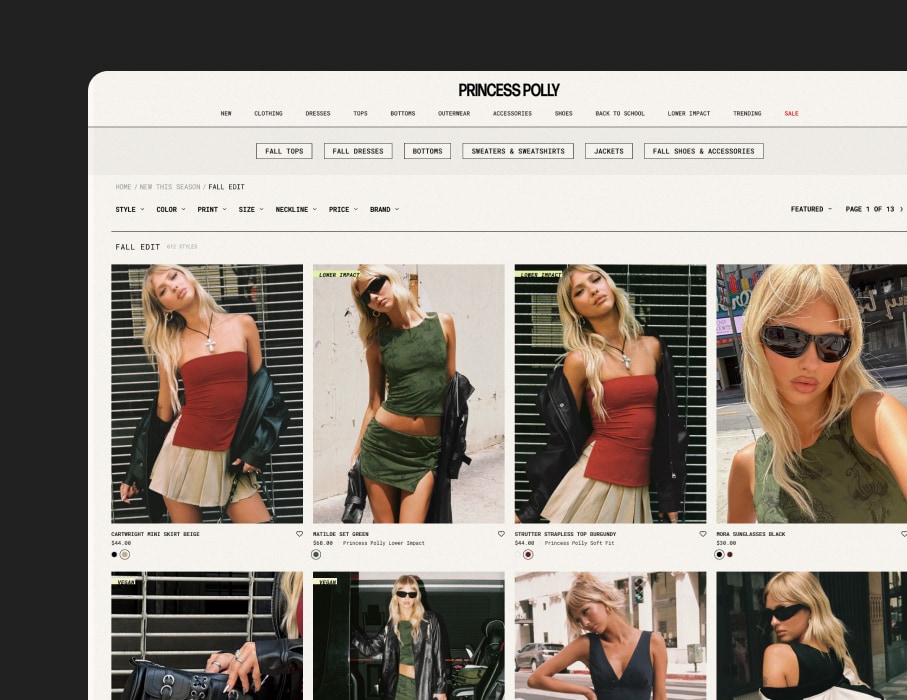 Post migration, most of Princess Polly's key metrics are up, the conversion rate is high, and the overall UX of the site is greatly improved – so much so that the brand is outperforming its current sales forecast. Moreover, the new site has boosted team efficiency, reducing customer service demands and making returns about a third less labor-intensive. PIVOT and Princess Polly are continuing to work together, making even further site enhancements and market expansions.
Visit Site