News
Troy Lee Designs Launches new site on Shopify Plus in US

Troy Lee Designs, a supplier of premier motocross and mountain bike gear to the world's fastest racers, has a brand new site built in partnership with PIVOT on Shopify Plus. Migrating from an eCommerce platform called Suite Commerce (a NetSuite product), this new, completely mobile-optimized site positions the brand to grow rapidly in the coming months.
More than 30 years into his business, founder Troy Lee felt it was time to transition to a new eCommerce platform that was more flexible and that could marry commerce and content to create an impressive visitor experience. Suite Commerce was no longer meeting his business needs, and so it was decided to transition over to Shopify Plus, as this platform was much more modern, flexible, and customizable.
They needed a solid partner to handle the replatform--and a team that could build the custom features they wanted as part of the new site, too. It was clear that PIVOT was this partner, as they were able to iterate quickly on ideas and had the experience to handle the complex transition. PIVOT built an entirely custom integration between their ERP System (NetSuite) and Shopify Plus so that the entire process was seamless, automated, and secure.
Today, the dynamic and visually stunning site captures visitors in a compelling way, and their overall conversion rate has already increased. But that's not all. As part of the new, content-rich site, PIVOT also custom built personalization and customer experience improvements--like the ability for shoppers to add custom lettering to their helmets. These features help deepen customer buy-in with the brand and foster long-term customer loyalty. Being on Shopify Plus positions them to experiment with more testing, to manage eCommerce sales more efficiently, and to get the most out of various integrations that improve their business operation.
The team at Troy Lee Designs is delighted with the outcome of the transition as well as the look and feel of the new site and they're looking forward to leveraging this asset to drive more brand awareness, sales, and ongoing customer engagement.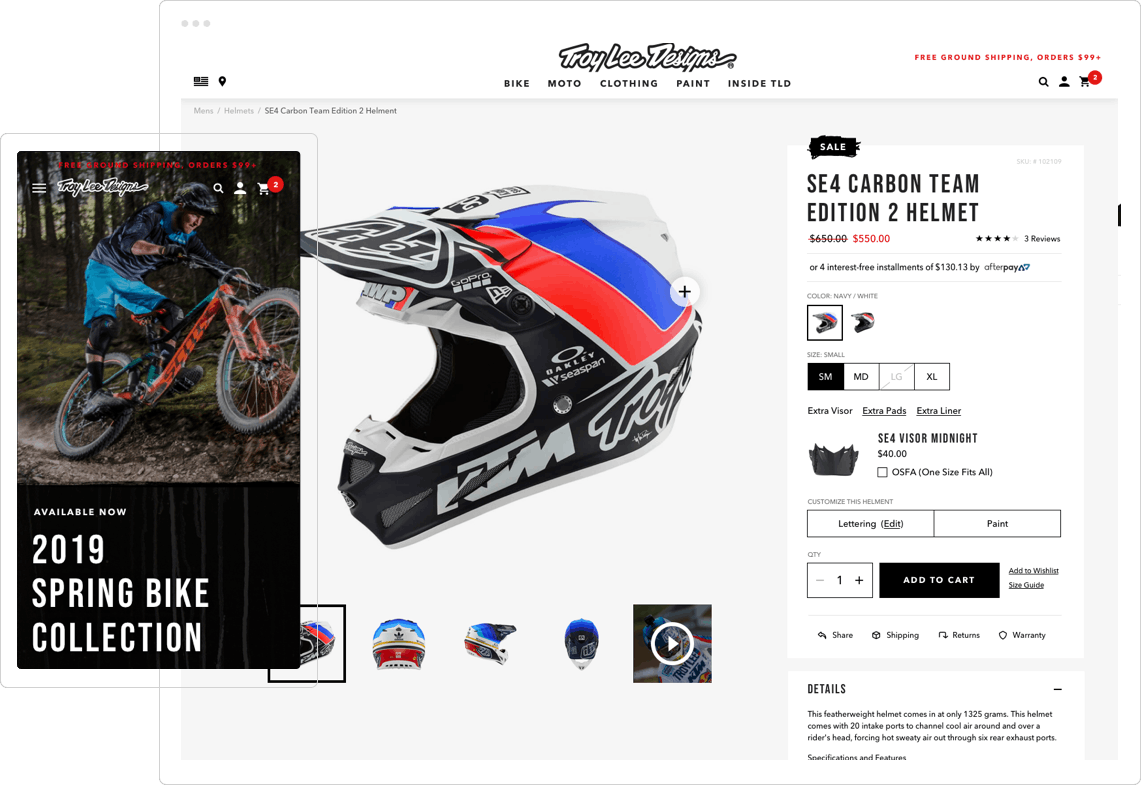 We are driven by creative horsepower, an intense competitive spirit with a love for riding and racing. We have a deep passion for Innovation, safety and performance while always exceeding artistic boundaries. Our mission is to create revolutionary Speed Equipment for The Worlds Fastest Racers and enthusiasts while ensuring that every product reflects the TLD Signature. Our intense passion for the lifestyle we lead on and off the track will always define what we create and why we create it. We hope you enjoy this passion with us.
Ready to PIVOT?
We'd love to work with you and your brand and build something exceptional!
Contact Us